Receive fixed lifetime payments and significant tax benefits.
How it works
Make a gift of cash or securities to Berkeley. The annuity can be established with $20,000 or more.
We will pay you — or one or two individuals that you name — fixed annuity payments for life.
When the contract ends, the remainder of the annuity is used to support the Berkeley programs you designate.
The minimum age of beneficiaries for an immediate payment CGA is 70 at the time payment begins.

How you benefit
Receive an income tax charitable deduction at the time of the gift. (We can provide sample deduction calculations.)
Your lifetime payments are backed by a reserve and the general assets of Berkeley.
Get favorable tax treatment for a portion of your annuity payments, including a tax-free portion for gifts of cash.
Diversify your assets.
Receive a capital gains tax benefit for appreciated assets such as stocks/bonds held more than one year.

NEW TAX LAW (SECURE ACT 2.0) EFFECTIVE JANUARY 1, 2023
IRA qualified charitable distributions (QCDs) may be used to create a charitable gift annuity
Must be 70 ½ or older at time of transfer.
Elect to distribute up to $50,000 to create a charitable gift annuity.
Election available only once in an IRA owner's lifetime.
Only the IRA owner and/or his/her spouse may receive the annuity payments.
Distribution can satisfy all or part of the required minimum distribution (RMD).
Donors are encouraged to consult with their advisors as there are additional limitations.
If you can help a student, not only are you helping them in college — you are helping them for the rest of their life.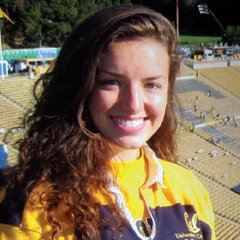 Megan Gritsch
Megan Gritsch grew up in Lodi, Calif., where residents just seem to know each other. "People would always ask me, 'Is your dad Ron?'" laughs Megan, 20, a UC Berkeley junior. "Everyone knew my dad." The daughter of a salesman and postal carrier, Megan's modest home graced the Mokelumne River. Although her parents did not go to college, Megan says they always expected it of her and her younger sister. "Education has always been very emphasized," she says. "I could …
Read more